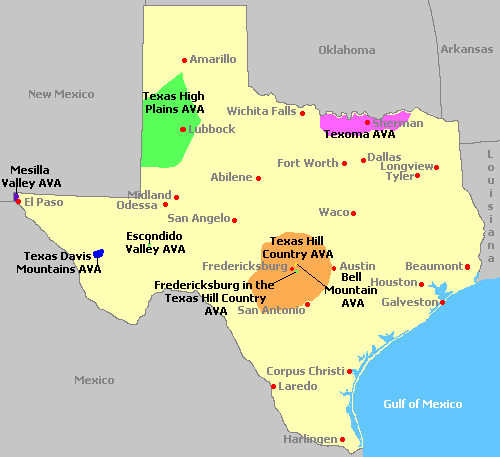 While I have been visiting South Central Texas regularly (some 35 years now), my personal experience with the "Texas Wine Country" has been quite limited. San Antonio friends have told me since 1980 that wine grapes were being grown out in the Lubbock desert area, but their early bottled wine efforts I tasted were not very impressive. (Mediocre, would almost be too kind…) But in the last 10-15 years, evidently, things had started to improve a bit, and I visited two TX wineries west of Austin around then. Much better wine, yet nothing to scare us NorCal grape growers.
Recently, however, things have changed quite a bit, all for the better. A friend from Austin, Alissa Leehner, the noted SAHMilier blogger, and some favorable newspaper reviews whetted my curiosity: have Texans really started to make some wine worth drinking, and even start buying? Then I heard that a goodly number of wineries in the Texas Hill County (W/SW of Austin and N/NW of San Antonio) were producing some decent Viogniers, a white grape originally from the Rhone river valley area of France. The Rhone, in SW France, is generally a much warmer grape growing area than Bordeaux or Burgundy; aahah, the Texans were finally catching on, and planting grapes from that region, as well as varieties from Spain and Italy, in general also warmer weather grape regions. Since our South African vineyard, Silkbush, while 93% a red grape producer, has started to grow and produce Viognier, my curiosity increased: we must see for ourselves what was going on in the Lone Star state.
Accordingly, a San Antonio friend who also enjoys wine, but who was not a local winery visitor, and I set out on a November Sunday and generally headed NW on Interstate 10 for Fredericksburg and thence East on Highway 290. While we made an initial stop in Comfort to visit the first cellar (about an hour from San Antonio), most of the wineries we saw were along Hwy 290 and about 1.5 hours from SA. San Antonio is a big convention city, and it is likely tours of the wineries in the area we visited will become increasingly popular. That understood, Austin is perhaps the most efficient "jumping off" point for TX wine touring as the vast bulk of the wineries are within an hour's drive west of Austin.
The Hill Country has been a popular TX recreational area for many years; there are many small ranches accommodating visitors, lots of upscale homes and restaurants, and it is a generally very attractive area visit. The driving distances are comparable to those of Napa and Sonoma from San Francisco, so as more Texans start drinking better wine, and want to learn more about their home state's wine efforts, wine touring year round will increase markedly.
There are some constraints, however, which need to be addressed straight off. First, the reportedly 46 TX Hill Country wineries are strewn about in a very large area; we heard there are at least 50% more venues with applications into the State. (There are over 350 TX wineries over the very large state.) Visiting a representative number in any "sub area" of the Hill Country is going to take the better part of a week, so careful pre-planning of your visit(s) is mandatory. The Texas Hill Country Wineries Guide & Map we picked up along the way was very helpful, but directing prospective visitors to first visit www.TexasWineTrail.com will assist in planning. Trying to visit more than four cellars per day is probably undoable for most, and even hitting four can make it a bit of a drill. If the driving distances between stops is very long, a lot of the fun of the adventure starts to go out of the outing.
Secondly, many TX wineries now require appointments and a $15 tasting fee; these are arranged in advance on relatively sophisticated websites. This is somewhat a positive as it will keep the tasting rooms from being overcrowded and provide for a better visitor experience. (We speak from personal experience in NorCal, where tasting rooms often are overcrowded on summer and fall weekends, and tasting charges are often much higher, especially in Napa.)
Thirdly, you are not going to see many acres of vineyards as you do in most other wine growing areas of the US and the rest of the world. Most of the over 9,000 acres of TX vineyards are still located south of Lubbock, or some five hours west. The growing conditions in near desert conditions, with chilly nights and warm days, and low risk of grape pests, means the best grapes will largely be too far away to visit. Some vineyards are planted in the Hill Country, but reportedly most of these vines are frankly intended to serve as simply amenities for their winery tasting rooms.
Nevertheless, neither driving distances nor lack of vineyards is a fatal flaw, but wine tourists should be aware of this in advance. In a sense, this sort of reminded me of our visit to Mendoza, Argentina, in 2008. I had researched about a dozen winery websites in advance, contacted them all via email, and had been warmly invited to visit by almost all of them. On the websites, I had noticed mainly photos of stylish, relatively new wineries, and then photos of the impressive, ever present Andes Mountains in the distance. However, there were relatively few shots of vineyards and surrounding area shots, which are rather standard for the 1,000 of so wineries in Napa and Sonoma. When we got there, there were vineyards adjacent to the wineries, but when they ended, it was almost all DESERT! Water comes in canals from melting glaciers in the Andes, but it is all carefully measured, and not in any abundance. The TX Hill Country is far prettier than most of the grape growing areas of Greater Mendoza, but visually neither area is as stunning as the Napa Valley, Champagne, or the Winelands of South Africa.
That understood, Texas wineries are fun to visit; I will continue to return with friends for enjoyable days on future TX trips. More significantly, like wine tasting facilities everywhere, they are doing an important role in educating Texans and others about wine, especially the more exotic varieties, teaching wine/food pairings, and generally "demystifying" wine drinking. In general, this will sell more TX wine and create more informed, enthusiastic consumers for wines from elsewhere.
Due to the length of the foregoing introduction to visiting TX wineries, we will discuss TX Viognier in a separate blog posting.